"Anything To Say?", is a life size bronze sculpture, portraying three figures each one standing on a chair. The fourth chair is empty because it is our chair. The one for us to stand up on to express ourselves or simply to stand next to Edward Snowden, Julian Assange and Chelsea Manning, who had the courage to say no to the intrusion of global surveillance and to lies that lead to war. Both loved and hated, they chose to loose the comfort zone of their lives to tell the truth.

The idea was developed by Charles Glass, author, journalist and broadcaster, and brought to life by artist Davide Dormino who believes in the power of Public Art:
« It has the power to make people grow and change their point of view. The chair has a double meaning. It can be comfortable, but it can also be a pedestal to rise higher, to get a better view, to learn more. They all chose to get up on the chairs of courage. They made their move in spite of becoming visible, thus threatened and judged. Some think they are traitors. History never had a positive opinion of contemporary revolutionaries. You need courage to act, to stand up on that empty chair because it hurts.»
First Journey
May 1-st, Alexanderplatz, Berlin, 2015
On May 1st on the historical Alexanderplatz, in Berlin, the sculpture (930 kilos) was unveiled by Patrick Bradatsch together with artist Davide Dormino, the speakers, the journalists and those who joined the event. Many people surrounded the sculpture, in turn stepping up on the chair to speak, or just to show their support.
THE JOURNEY
2023
October 19-22 Lugano (Piazza Castello)
March 7-8 Melbourne (Queensbridge Square)
March 10-11 Sydney (St. Andrews Cathedral)
June 24 London (Parliament Square)
2022
May 8-15 Udine (Piazza Libertà)
August 6-10 Leipzig (Augustusplatz)
2021
June 5th-August Genève (Bains de Pâquis)
2020
January 29-31 Place de la Monnaie, Bruxelles, Belgium
September Lünersee Lake, Austria
October 16-18 Colonia (Köln Chatedral)
2019
July 6-13 Piazza Campello, Spoleto, Italy
November 27-30 Brandenburger Tor, Berlin, Germany
2016
December 6-13 Sapienza University, P.le Aldo Moro, Rome, Italy
July 8-16 Mesti trg Square, Ptuj, Slovenija
June 8-16 Dev9t Festival, Belgrade, Serbia
April 6-10 IV Novembre, Perugia, Italy, (International Journalism Festival)
March 9-14 Train Station, Tours, France (Assises du Journalisme)
2015
November 16-21 Place Klèber, Strasbourg (Forum Mondial de la Démocratie)
September 23-29 Place Georges-Pompidou, Paris
September 14-18 Places des Nations, Geneva
July 10 - September 1st Theaterplatz, Ostrale-Dresden - www.ostrale.de
May 3rd ufaFabrik-Internationales Kultur Centrum, Berlin
May 1st Alexanderplatz, Berlin

«Stand up for your rights»
All of us owe a debt to Julian Assange, Edward Snowden and Chelsea Manning, who have learned freedom's limits to their cost. They know they are spied on every hour of every day. They know how governments kill and torture alleged enemies. They understand better than we who are not imprisoned or under constant surveillance what can happen to anyone who challenges state power or exposes state crimes. Chelsea Manning was sentenced to thirty-five years in American federal prison, commuted after seven years of harsh custody that included suicide attempts and hunger strikes. The US District Court in Virginia incarcerated her again for refusing to testify to a grand jury against Julian Assange. She has steadfastly refused to speak against him, despite high fines and long terms behind bars. since December 2010, nearly eleven years, in jail, house arrest, the Ecuadorian Embassy and, since April 2019 in the maximum security Belmarsh Prison, where his physical and mental health have steadily deteriorated. Although a British court rejected the American application to extradite him to the US, where he faces 175-years in a Super-Max penitentiary, he has been denied bail and languishes in Belmarsh while the US appeals the ruling. Edward Snowden is trapped in Moscow, unable to travel and without his US passport. We will honour their courage by erecting a monument, designed by Italian sculptor Davide Dormino. Most statues in public spaces commemorate warriors. The Dormino statue pays homage to three who said no to war, to the lies that lead to war and to the intrusion into private life that helps to perpetuate war. Manning, Assange and Snowden accepted their loss of freedom. While you remain free, thank them by erecting this reminder that we can refuse to collaborate with unaccountable power.
CHARLES GLASS
They said and are paying for it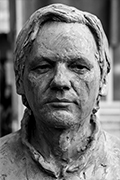 Julian Assange, born in 1971, publisher and journalist, is best known as the editor-in-chief of the whistleblower website WikiLeaks which he co-founded in 2006. WikiLeaks achieved particular prominence in 2010 when it published US military and diplomatic documents leaked by Chelsea Manning.
« To keep a person ignorant is to place them in a cage.»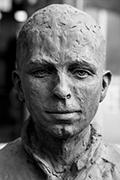 Chelsea Manning, born in 1987, is a US soldier assigned in 2009 to an army unit in Iraq as an intelligence analyst. Manning had access to classified database which she leaked in 2010 to WikiLeaks.
« I am the type of person who likes to know how things work. And, as an analyst, this means I always want to figure out the truth.»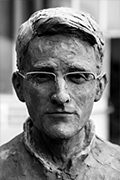 Edward Snowden, born in 1983, is an American computer professional. He worked for the CIA (Central Intelligence Agency), the DIA (Defense Intelligence Agency) and the private intelligence contractor Dell, inside a National Security Agency outpost in Japan. In 2013, he released numerous NSA documents to the press.
« I do not want to live in a world where everything I do and say is recorded.»
Follow us on Facebook